Characteristics
The eMAT floor protection panels are laid onto the ground and screwed. Due to their low weight and size, they can be laid and mounted by hand without any problems. The profiling provides a non-slip surface for pedestrians, wheelchair users, cyclists, cars and trucks. Depending on the condition of the floor, a PE foil, geotextile or rubber mat is also used as a base. For additional security during the night, signal markings and cat's eyes can be integrated into the panel elements on request.
The eMAT panel is extremely flexible and elastic, adapts perfectly to the subsoil and protects sensitive surfaces.
Logistics
Our panels are easier to transport than most alternative road panels for temporary use. More panels can therefore be loaded on trucks or in containers, reducing transport costs.
Our services
We offer our products and services principally to you for rent from stock, for collection by yourself or including service, i. e. transport, assembly and dismantling according to plan as well as final cleaning. Also available for purchase on request. We would be pleased to provide you with a free, non-binding and individual offer.
Factsheet download:
download factsheet watch on YouTube
Impressions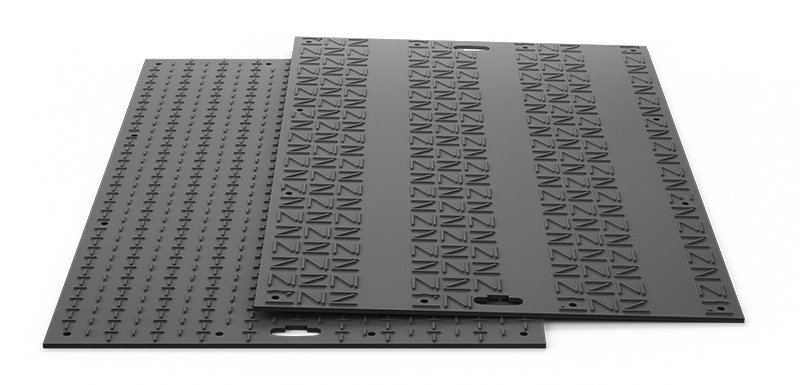 Technical Data
| | |
| --- | --- |
| Material: | Polyethylene, high molecular weight |
| Measurements: | 1200 mm x 2400 mm x 14,5 mm (incl. profile) |
| Weight: | approx. 36 kg |
| Surface: | 2,5mm one-sided profile |
| Color: | Black-colored |
| Load capacity: | approx. 60 to. (depending on substrate) |
| Transport: | 600 panels (1728m²) |
Possible uses
For example as a mobile construction road