The ISOTRACK X floor protection panels have been specially developed to be able to build a fixed roadway or platform with an unsurpassable load capacity on very damp or muddy ground. This means that even the heaviest vehicles, including tracked vehicles, can drive over extremely wet ground and safely transport all goods to their destination.
Characteristics
ISOTRACK X panels are manufactured using the sandwich process and have a honeycomb panel inside which provides maximum strength and yet enormous flexibility. Specially integrated foam cores increase the volume inside and give the panels maximum boost. Thanks to their innovative overlapping system, the ISOTRACK X panels form a firmly connected and stable surface which is immediately load-bearing. ISOTRACK X panels can be used as mobile access solution, working, assembly or crane space.
Logistics
ISOTRACK X panels are easier to transport than most alternative road panels for temporary use. More panels can therefore be loaded on trucks or in containers, reducing transport costs.
Our services
We offer our products and services principally to you for rent from stock, for collection by yourself or including service, i. e. transport, assembly and dismantling according to plan as well as final cleaning. Also available for purchase on request. We would be pleased to provide you with a free, non-binding and individual offer.
Factsheet download:
Impressions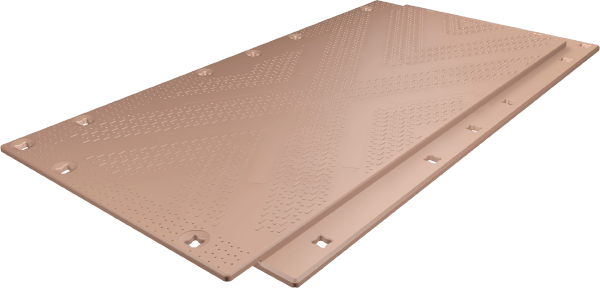 Datos técnicos
| | |
| --- | --- |
| Material: | Polyethylene with high density (UHMW) |
| Dimensiones: | 400 cm x 200 cm x 9,4 cm |
| Peso: | 360 kg / panel |
| Superfície: | profiled on both sides |
| Color: | sand |
| Carga de peso: | approx. 260 t/m² (depending on subsoil) |
| Transport: | 50 ISOTRACK X panels per truck |
Posibilidades de aplicación
como por ejemplo una carretera móvil
Construcción de líneas eléctricas
Construcción de carreteras y vías de acceso
Ajustes de grúas y superfícies